The Mindful Goddess Expedition
Colombia | December 1-7, 2023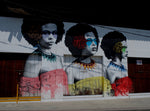 "I'm taking you on the journey right into your own destiny."
— Alicia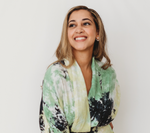 The Mindful Goddess Expedition
The Mindful Goddess Expedition to Colombia is a soul-awakening adventure to self. We will dive into making every action intentional and meaningful. 
We will tap into our own divine power by connecting to the feminine energy all around us and connecting to each other. Yoga on the beach, nature adventures, and cultural experiences. 
The journey starts at Gitana Del Mar in Santa Marta, or as some may call it: The Heart of the World. The Caribbean Sea meets the lush jungle and mountains. Three days in eco-chic bungalows, eating fresh food and having adventures that will stay with you forever.
Then we forge on to beautiful Cartagena where you will stay in a tropical palace for another 3 days. The Sofitel Legend Santa Clara Hotel is located in a city declared by UNESCO as a "Historical and Cultural Heritage of Humanity".
We will learn about the rich culture of this historic walled city. We'll dine, explore, dance, sing, and practice yoga.
We will ACCEPT all that was, is, and will be. 
We will AFFIRM who we really are. 
And we will AWAKEN the goddess within.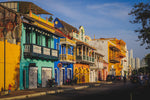 A time to restore…
4 Days in Santa Marta (the entire resort to ourselves!)
3 Days at a Luxury Hotel in Cartagena (bus ride from resort to resort)
Private Welcome Dinner
Bonfire on the beach
Natural Springs
Arts & Culture Tour
Yoga Classes
Salsa Lessons
Boat Ride to Beach Club
**SPACE IS LIMITED**
Apply Now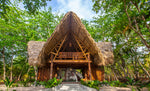 Santa Marta Accommodations
We'll spend 4 days, from December 1-4, at an eco-chic Beach Resort which is located on the shores of the Caribbean Sea in Colombia, South America. The resort lies at the foothills of the impressive and magical Sierra Nevada de Santa Marta, the world's highest Coastal Mountain Range. This area is referred to as the Heart of the world, not only because of its geographical location but more importantly, because every single ecosystem exists and thrives in the Sierra Nevada mountains.
In order to maintain a sustainable and low energy consumption practice, the resort does not have A/C (Air Conditioning) in the rooms.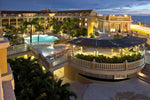 Cartagena Accommodations
On December 4th, we'll take a 5-hour air-conditioned bus ride to our next destination to spend 3 nights at a 5-star award-winning luxury hotel located within Cartagena's walled city. Walking distance to restaurants, shops, and historic sites,
Built in 1621 as a convent, our Cartagena host hotel is a UNESCO World Heritage Site that is the perfect combination of history, local hospitality, impeccable customer service, and modern luxury. Indulge in self-care at the Sofitel SPA, where ancient treatments from around the world meet the refinement and skill of the latest French cosmetology, and enjoy meals at your choice of 4 on-site restaurants & bars.
Solo Package: $4,000 | Shared Occupancy Package: $3600
NOTE: We are happy to pair you with a suitemate upon request which you can indicate on the booking form once provided.
Double and Triple occupancy in Santa Marta will be booked as a double occupancy (2 in a room) at the Cartagena hotel in their Deluxe Superior Suite.
If you book a solo package rate, you will be booked as a share in Santa Marta only due to resort room configurations, yet you will have a solo room in Cartegena in their Deluxe Superior Suite.
All room assignments and requests for hot water bungalows in Santa Marta will be booked on a first come, first serve basis.
Package rates are inclusive of accommodations, meals during retreat programming, excursions, gift bags, airport and ground transportation. Airfare is not included.

PAYMENT PLAN: $250 deposit. 1st payment due 14 days later, remaining monthly payments in equal amounts, with final payment due October 30th.

PAY IN FULL: Includes 5% discount

*Affirm available
Message From The Host
As a mother and wife I tend to put myself last which most times can leave me feeling exhausted and overwhelmed.
Over the years I've grown to realize community and sisterhood is my saving grace. After having my sweet baby boy during a pandemic, it hit me just how important emotional and mental health is right now and how I have to be intentional on watering my own garden first.
The events of the world can be so draining at times. Throughout our journeys of adulthood, motherhood and career-hood, for our sanity we need to find a tribe of like-minded individuals whom together we can unplug and explore places where we feel liberated, rejuvenated, and SEEN.
What better way than to be around women uplifting each other to their highest potential, to be each others' soft places to land, and ultimately how best to tend to our own gardens.
At the Mindful Goddess Expedition retreat, we'll be reminded that we are not our bodies but the soul inside. We will hold ourselves to the highest standard of rest, glowing up together, and building community around love, intention and tapping into our badass feminine warrior goddess energy!
I invite you to take this ride with me.
Let me lead you to a place where you know how to always bring yourself back to YOU.
Getting Here
You will arrive at Ernesto Cortissoz International Airport (BAQ) or Simón Bolívar International Airport (SMR) on December 1st and depart Rafael Núñez International Airport (CTG) on December 7th.
BAQ is a 2.5 hour ride to the resort, Santa Marta is a 1.5 hour ride to the resort. We suggest arriving on the earliest flight possible at either arrival airport and departure at anytime from CTG airport.
Roundtrip transportation is included regardless of what time you arrive and depart within the retreat dates.
Covid-19 Travel
We strive to curate the safest experience for our attendees. Should the need arise to reschedule our retreat due to circumstances beyond our control, your payments will be applied to a future retreat valid for one year.