Our Story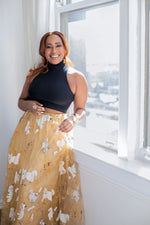 "I create spaces for women to thrive."
Founder's Story
Christina M. Rice
Over the years, my work has taken many shapes – excelling in Marketing & Public Relations for the stars, running my own agency – but nothing has felt so aligned as my trajectory toward cultivating a community for folks of color to thrive in the wellness space.
After a period of heavy, broken-hearted burnout, I sought a refreshed perspective through yoga. When I looked around amid my yoga teacher training, I was faced with a lack of representation in the industry.
I know that shared experiences can foster belonging, growth, and healing, and I felt called to develop a space for Black women and Women of color – to take up SPACE in the wellness sphere.
As an adventure-seeker and boundary-pusher, healing, for me, isn't just about comfort – it's about overcoming fears, seeking out new experiences, and pushing my own limits to come out with a new perspective.
I am so happy you are here. This space is for you to thrive and discover a new way of being.
We crave adventure, new experiences and the courage to live your life authentic to your unique human design. We believe that growth and joy come from finding a place where you belong. We hope that you have the audacity to live a luxurious life bigger than you ever imagined and seek pleasure in all your days.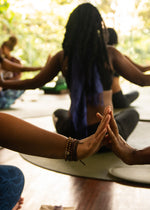 Our Mission
OMNoire creates a space for you to take ownership of the vision you have for your life, and provide you with the tools to grow beyond what you ever imagined. We have curated a safe and sacred space for Black women to heal, grow, and find support of a grounding community.
Wherever you're at – burnt out, lost, seeking abundance, or finding your groove and thriving – OMNoire is there to foster the next phase of growth, cultivating an atmosphere of connection while fearlessly embracing every stage of your healing journey.
By sharing and connecting you with new and diverse modalities of health and wellness, we support you in reimagining what's possible and move into the big, brave life that is calling you.
Contact Us

Retreats

Partnerships &. General Inquiries

Academy