Reignite Your Joy Retreat
Colombia | June 9-16, 2024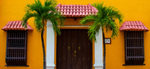 "You'll Always Be As Young As The Amount Of Joy You Have In Your Soul."
- Ally Strickland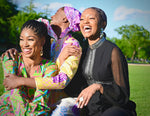 Welcome to the Reignite Your Joy Retreat!
This 'adult summer camp' experience is all about creating incredible experiences, escaping the daily routine, and getting away from the ongoing struggle that is simply being an adult. 
Treat yourself to 8 days of carefree fun to meet like-minded people and experience a few light hearted days away from the hustle. 
Using movement, art, and adventure, we'll create a legendary space and practice to empower and inspire your most authentic self. 
We'll nurture our minds and bodies while staying in two of Colombia's most luxurious and awe inspiring accommodations.
The journey starts in Santa Marta, or as some may call it: "The Heart of the World." You'll meet us where the Caribbean Sea meets lush jungle and mountains to spend three days in eco-chic bungalows, eating fresh food and having unforgettable adventures. 
Then, forge on to beautiful Cartagena. Within this iconic city, we will stay in a tropical palace, for the remainder of our camp experience. 
We'll dine, explore, dance, and reignite our joy while learning about the rich culture of Colombia Culture. 
Yes, this retreat is for those art lovers and movement mavericks that appreciate getting away to nature to disconnect and feed their curiosity... but that's not all. 
This retreat is also for people who want to cultivate carefree spaces, lounge in luxury, and bask in the warm and fuzzy nostalgia of summer fun.
Break away from your daily routine to discover new joys, focus on self care, and make your next extraordinary memory.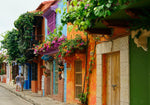 The Experience
Pair large text with an image to give focus to your chosen product, collection, or blog post. Add details on availability, style, or even provide a review.
A time for play…
4 nights in Santa Marta (the entire resort to ourselves!) - All-inclusive
3 nights at a Luxury Hotel in Cartagena (bus ride from resort to resort)
Bonfire on the beach
Natural Springs
Arts & Culture Tour
Yoga Classes
Salsa Lessons
Boat Ride to Beach Club
Farewell Dinner
**SPACE IS LIMITED**
apply now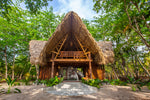 Santa Marta Accommodations
We'll spend 4 nights at an eco-chic Beach Resort which is located on the shores of the Caribbean Sea in Colombia, South America. The resort lies at the foothills of the impressive and magical Sierra Nevada de Santa Marta, the world's highest Coastal Mountain Range. This area is referred to as the Heart of the world, not only because of its geographical location but more importantly, because every single ecosystem exists and thrives in the Sierra Nevada mountains.
In order to maintain a sustainable and low energy consumption practice, the resort does not have A/C (Air Conditioning) in the rooms.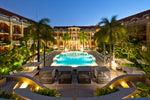 Cartagena Accommodations
On June 13th, we'll take a 5-hour air-conditioned bus ride to our next destination to spend 3 nights at a 5-star award-winning luxury hotel located within Cartagena's walled city. Walking distance to restaurants, shops, and historic sites, 
Built in 1621 as a convent, our Cartagena host hotel is a UNESCO World Heritage Site that is the perfect combination of history, local hospitality, impeccable customer service, and modern luxury. Indulge in self-care at the Sofitel SPA, where ancient treatments from around the world meet the refinement and skill of the latest French cosmetology, and enjoy meals at your choice of 4 on-site restaurants & bars.
Solo Package: $4,200 | Shared Occupancy Package: $3,800pp
NOTE: We are happy to pair you with a suitemate upon request which you can indicate on the registration link once provided.
Double and Triple occupancy in Santa Marta will be booked as a double occupancy (2 in a room) at the Cartagena hotel in their Deluxe Room. 
If you book a solo package rate, you will be booked as a share in Santa Marta only due to resort room configurations, yet you will have a solo room in Cartegena in the Deluxe Room
All room assignments in hot water bungalows in Santa Marta will be booked on a first come, first serve basis.
Package rates are inclusive of accommodations, meals during retreat programming, excursions, gift bags, airport and ground transportation. Airfare is not included.
PAYMENT PLAN: $100 deposit. 1st payment due 14 days later, remaining monthly payments in equal amounts, with final payment due April 30th. Payment plans incur a $10/month processing fee.
PAY IN FULL: Includes 5% discount
*Affirm available
Message From The Host
Spending years as a preschool teacher and summer camp counselor, I've always been moved by the sight of children at play. The smiles they wear as they climb higher and adventure farther.
The imagination they free as they escape the volcanic lava and hop to the other side of the playground. Even the emotions that swell up and burst out in the midst of friendly competition.
As I watched, I'd always ask myself – why do we stop having this type of fun just because we grow into adults
Do you remember the excitement of summer before full time work? I want you to. I want to give you something to look forward to this summer - a space where you can tap back into the uninhibited thrills of carefree adventure.
Summer camp was a place where I could get away and do more of what I loved. Sometimes it was letting hours fly by as I played my favorite game.
Other times it was staying up late to share my hopes, wins, and latest drama with close friends. No matter what, it was my time to be on my own time and explore the things that nurtured my curious soul.
Many of us have heard the phrase, "Youth is wasted on the young." I don't believe that.
I believe that adults should do a better job of re-igniting the fire of their youth. 
The Reignite Your Joy Retreat is a reminder that you carry that fire within you.
It's just waiting for you to take the time and fan the flames. 
Getting Here
You will arrive at Ernesto Cortissoz International Airport (BAQ) or Simón Bolívar International Airport (SMR) on June 10th and depart Rafael Núñez International Airport (CTG) on June 16th. 
BAQ is a 2.5 hour ride to the resort, Santa Marta is a 1.5 hour ride to the resort. We suggest arriving on the earliest flight possible at either arrival airport and departure at anytime from CTG airport.
Roundtrip transportation is included regardless of what time you arrive and depart within the retreat dates.
Travel Restrictions
We strive to curate the safest experience for our attendees. Should the need arise to reschedule our retreat due to circumstances beyond our control, your payments will be applied to a future retreat valid for one year.