Reignite Your Light Retreat
Guanacaste, Costa Rica | June 20-24, 2024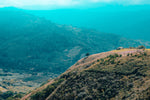 "Embrace The Power Of Retreat To Rediscover Your Worth, Reignite Your Passions, And Reclaim Your Joy."
— Unknown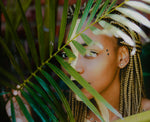 A Heart-Centered Journey
You are the embodiment of all that's beautiful in the world: a selfless friend, a supportive team player, a devoted mother, sister, partner, and more. You give tirelessly to everyone around you, yet when the day settles and the dust clears, you often find little time left for yourself.
But you deserve so much more!
Introducing the Reignite Your Light Retreat – a sanctuary for your soul, a retreat beyond the ordinary. It's your chance to step away from the hustle and bustle of daily life, embracing a journey of self-renewal and complete relaxation. This retreat is your haven of tranquility, inviting you to rediscover the calm and clarity that reside within your heart.
Join Billé Frazier, a transformative catalyst, healer, and guide, as she empowers every individual to step into their true selves and honor what truly matters. Together, we'll immerse ourselves in an enchanting realm, a lavish traditional-styled hotel reminiscent of the timeless mansions found in the coastal gems of Havana and Cartagena.
 Our haven of rejuvenation is nestled in the charming pedestrian town of Playa Danta, Las Catalinas. Here, nature's symphony harmonizes with human connection, inspiring you to feel a profound unity with both the environment and fellow participants.
Amidst the soothing coastal retreat of Costa Rica, you'll have ample time to lounge by the pool, soak up the sunset's hues during tranquil intention sessions, and let go with transformative practices such as sound therapy, meditation, and group connection. Delve into healing treatments like acupuncture and reiki, embracing the chance to release whatever might be holding you back.
This is a heartfelt invitation to all those who are ready to prioritize themselves, who are eager to open up their hearts and step boldly onto the path of self-nurturing. Your journey starts here, where your well-being takes center stage and your heart finds its voice.
Elevate your spirit, embrace your light – join us at the Reignite Your Light Retreat for a transformative experience that will resonate long after the retreat's end. It's your time to shine, to embrace all that you are and all that you deserve.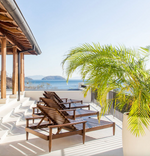 The Experience
Welcome Opening Intention Reception
Daily Breakfast
Nature's Playland: Horseback Riding, Zip Line, Hot Springs Escape excursion
Private Welcome Dinner
Sound Bath Healing Rejuvenation Therapy
Empower Your Mind: Group Hypnosis & Emotional Freedom Technique (EFT) Exploration
Needle & Nurture: Acupuncture for Renewed Vitality Therapy
Energize & Restore: Reiki Healing and Wellness session
Private Farewell Dinner
Gift Bag
Access to shopping, restaurants, and other galleries
**SPACE IS LIMITED**
apply now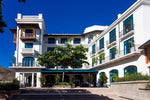 Accommodations
A tropically elegant oasis inspired by a palette of people and places, our host hotel is a bohemian pearl perched between two of Costa Rica's loveliest Pacific beaches.
Cosmopolitan minds and curious spirits naturally gather here, gracefully connecting and epitomizing "pura vida" – a life where people and their wellness are top priorities and where nature is cared for and enjoyed by all.
In a formal sense, our host resort is an homage to the old mansions of the great coastal cities of Havana and Cartagena, a traditional gem where sun-kissed days revolve around blossoming courtyards and lounging on timeless terraces with marveling picturesque archways surrounded by lush greenery and constant views of the sky.
Views from the rooftop are incomparable, especially when it is paired with our 35-square-meter pool.
Stylish accommodations and inviting public spaces are seamlessly woven with gracious hospitality to make this the ideal home base, captivating guests with an authentic laid-back warmth throughout.
NOTE: We are happy to pair you with a suitemate upon request which you can indicate on the booking form once provided.
Package rates are inclusive of accommodations, meals during retreat programming, excursions, gift bags, airport and ground transportation. Airfare is not included.
PAYMENT PLAN: $100 deposit. 1st payment due 14 days later, remaining monthly payments in equal amounts, with final payment due April 30th. Payment plans incur a $10/month processing fee.
PAY IN FULL: Includes 5% discount
*Affirm available
Message From The Host
In the powerful words of Miss Sophia from "The Color Purple," "All my life I had to fight..."
This iconic line resonates deep within our souls and reminds us of the strength that has always defined Black women.
We've been warriors, fighters, and caregivers, often giving everything to everyone else before ourselves.
I've walked that path, just like so many of you.
I know what it's like to pour your heart into others until there's nothing left for yourself.
At the Reignite Your Light Retreat, we're embarking on a journey of self-discovery, self-empowerment, and self-nourishment. It's a retreat designed to tap into the beautiful mystery that is you.
Through transformative healing rituals like reiki and hypnotherapy, we'll shed limiting beliefs that reside within our subconscious minds. We'll create a sacred space, provide you with the tools, and inspire you to listen deeply to the call of your heart.
Together, we'll identify what truly matters in your life, realign your priorities, and forge connections with a sisterhood ready to support you every step of the way.
This retreat is your opportunity for profound transformation, a transformation that will send ripples of empowerment through every facet of your world.
It's a rendezvous with destiny, a chance to embrace your true essence, and a journey where your light will shine brighter than ever before as you rediscover your power and embrace your radiant light.
Getting Here
You will arrive at Liberia Airport (LIR), We suggest arriving on the earliest flight possible. Round trip airport transportation is provided regardless of what time you arrive and depart within the retreat dates.
Travel Restrictions
We strive to curate the safest experience for our attendees. Should the need arise to reschedule our retreat due to circumstances beyond our control, your payments will be applied to a future retreat.