The Sacred Black Woman Retreat
Paris | May 1-6, 2024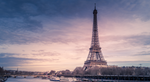 "The white fathers told us: I think, therefore I am. The Black Mother within each of us -- the poet -- whispers in our dreams: I feel, therefore I can be free."
- Audre Lorde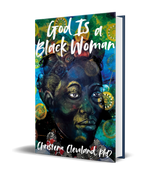 The Sacred Black Woman
Inspired by your host, Christena Cleveland, author of God Is A Black Woman, The Sacred Black Woman Retreat is an invitation to learn, connect and relish in the history of an ancient spiritual icon - The Black Madonna.
In 2018, Christena embarked on a 400 mile walking pilgrimage in France to visit 18 Black Madonnas.
Everywhere we turn, Black women are bombarded with messages that deny our sacredness.
But the Black Madonna whose life-giving roots extend to Isis of Egypt, the Orishas of Yoruba, and beyond -- is a glorious icon of resistance for Black women.
Her holy Black female body affirms Black women's sacredness and empowers us to move boldly through this world as deeply loved and deeply held beings.
On this Paris-based retreat, we will visit four ancient Black Madonna statues - each one with an illustrious origin story and unique powers that specifically affirm the sacredness of Black women.
During each visit, we will explore that particular Black Madonna's story and also stimulating journal/discussion prompts, an optional guided meditation, and community reflection.
Additionally, this retreat will be about honoring our own sacredness!
So we will live our best Paris life -- enjoying sumptuous food, frequenting Black-female-owned boutiques, and discovering Black Parisian history and art -- all in the company of sacred Black women.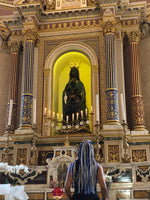 The Experience
Private Welcome Dinner
Daily Breakfast Included
Visit Our Lady of Good Deliverance (Neuilly-sur-Seine, France) and Our Lady of Peace (Paris, France)
Day trip via train to Our Lady of Miracles (Orleans, France)
Day trip via train to visit Our Lady of the Underworld (Chartres, France)
Black women's history of Paris tour
Black-female-owned boutiques tour
Restorative yoga for Black women
Farewell Sacred Black Woman picnic at the Eiffel Tower
Macaron cooking class
Paint N' Sip (optional optional add-on)
Black-Owned Book Store Tour (optional optional add-on)
Champagne Tour (optional add-on)
*Itinerary subject to change
**Airfare is not included
***SPACE IS LIMITED**
apply now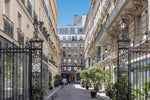 Accommodations
Set in twin low-rise buildings, in a quiet private road, the our host hotel beckons peace and relaxation, close to yet sheltered from the buzzing hub of the Grands Boulevards.
Blissfully coordinated celadon green, raspberry, purple and turquoise set the tone, with moldings, ikat and bayadère motifs all completely attuned.
In every room or suite, regardless of size, the mood is blithe and welcoming.
And, needless to say, strikingly elegant. The furniture is delightfully sleek – a tribute to to the fine materials used and great attention to detail.
Peace and quiet reign supreme here, softly and gently: the bedding has been specially selected to guarantee our guests proper rest and relaxation.
The bathrooms feature neo-retro Guimard earthenware tiles, and Vrai par Fragonard courtesy products, to experience the beauty of Paris in every sense of the word.
NOTE: We are happy to pair you with a suitemate upon request which you can indicate on the booking form once provided.
Package rates are inclusive of accommodations, meals during retreat programming, excursions, gift bags, airport and ground transportation. Airfare is not included.
PAYMENT PLAN: $100 deposit. 1st payment due 14 days later, remaining monthly payments in equal amounts, with final payment due March 30. Payment plans incur a $10/month processing fee.
PAY IN FULL: Includes 5% discount
*Affirm available
Message From The Host
My whole world changed when I encountered the Black Madonna.
Though I presented a stoically-confident persona to the world, internally I struggled with deep insecurities about my worth, the validity of my embodied experience as a Black woman, my body, my ability and more.
In 2016, in the wake of the Black Lives Matter and Me Too movements, I went searching for a spiritual icon that could relate to my experience as a Black woman and affirm that my body, life and story do in fact matter.
It didn't take long for me to encounter the Black Madonna and within seconds of viewing photos of Black Madonnas, my gut shifted from terror to hope.
Before I even read a word about the Black Madonna, my soul immediately recognized that these photos and drawings of ancient Black Madonnas declared a truth about my own sacredness and gave birth to a new understanding of God.
In late 2018, I embarked on a 400-mile walking pilgrimage across central France to visit 18 Black Madonnas in tiny mountain villages.
Each encounter with each Black Madonna healed a part of me -- from embracing my imperfection to loving my body to standing in my truth.
I detailed my transformational journey in my 2022 book God Is a Black Woman (HarperCollins).
Now, I'm excited to take Black women to the Black Madonnas I love because I know that you will love them too and be empowered by them!
Getting Here
You will arrive at Paris Orly (ORY) Airport. We suggest arriving before 12pm. Round trip airport transportation is provided regardless of what time you arrive and depart within the retreat dates.
Travel Restrictions
We strive to curate the safest experience for our attendees. Should the need arise to reschedule our retreat due to circumstances beyond our control, your payments will be applied to a future retreat.