Awaken Goddess: The Art of Ritual
Bali
September 28-October 5, 2024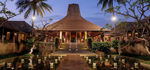 "Life is But the Expression of Spirit through Frequency. To make Life Manifest requires the union of Universal Sound Current, Spirit, Intention, and Source Energy. I know that the illuminant force within me is fueled by my desire to help you Awaken the Goddess Within."
— Essie Marie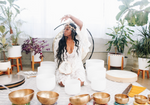 Awaken the Goddess Within You
In the midst of busy lives, it's easy to lose touch with our true selves.
Are you're seeking answers to deep questions, who am I, what is my life purpose, or looking to embark on a soulful journey with like minded individuals?
This retreat will guide you toward profound self-awareness and empowerment.
Bali's captivating landscapes and spiritual aura make it an energy vortex—an intersection of two potent Ley Lines that connect with the Earth's Kundalini energy. 
Known as the "World Purification Center," Bali cleanses not only the planet's energy but also rejuvenates the soul and body of those who tread upon its sacred soil.
Your host, Essie Marie, will curate a series of Angelic Healing Experiences to lead participants on a voyage through the subconscious mind and inner being to activate the body's natural healing systems and awaken their divine power. 
Some say, "It's like 15 years of therapy with no words".
The Art of Rituals are designed to transcend the ordinary, guiding you toward the extraordinary, and be reborn anew.
This is an opportunity to let go of everything that no longer serve purpose in your reality.
This is your moment to shine!
September 28-October 5, 2024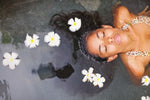 The Experience
A Time of Rebirth Welcome Brunch Picnic
Daily Breakfast & Afternoon Tea
Essie's Signature I Angelic Healing Experience to tap into deep connection to the divine
Guided Meditations
Sound Alchemy
Kundalini Vocal Activations
Energy Clearing & Cord Cutting
Cosmic Talks
Divine Floral Purification Bath w/Sound Attunement to Activate Chakras
Bali Cooking Class
Sacred Site Visits & Temples Tour
Rest & Restoration
Elevate & Manifest Farewell Dinner
***Continue your Journey for 4 days, 3 Nights in the idyllic coastal town of Sanur Bali from October 5-8. You can indicate if you are interested in the additional days on the application. Rates starting at $1500 per person.
 *Special Event Soiree - A gathering designed to foster connections, play, dance, ignite conversations of shared wisdom & purpose as Essie's Awaken God/Goddess Retreat merges for One Night Only on October 6. Let the Soul Connections Ignite! 
*Airfare is not included
**SPACE IS LIMITED**
apply now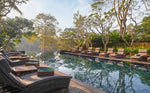 Accommodations
"Tap into the healing energy that flowsfrom Bali's spiritual and cultural heart."
Deep inside Bali's cultural heart, and somewhere outside of linear time, our host resort unfolds gently across 10-acres of lush tropical landscape. The land's palm tree-fringed contours form a ceremonial walkway that reveals the hidden river valley below.
Blending traditional Balinese décor with modern comforts guest can enjoy their choice of 108 rooms and studies.
The resort, only minutes from the city center, also features 2 infinity pools and 3 restaurants.
NOTE: We are happy to pair you with a suitemate upon request which you can indicate on the booking form once provided.
Package rates are inclusive of accommodations, meals during retreat programming, excursions, gift bags, airport and ground transportation. Airfare is not included.
PAYMENT PLAN: $100 deposit. 1st payment due 14 days later, remaining monthly payments in equal amounts, with final payment due August 30th. Payment plans incur a $10/month processing fee.
PAY IN FULL: Includes 5% discount
*Affirm available
Message From The Host
Phenomenal, strong, bold, mystic, independent, adventurous, resilient; One might say that these things are a dynamic combination of everything that would make a magnificent Retreat Leader'. I say that these things are the dynamic combination of everything that is me, Essie Marie.
I'm the Founder of The Angelic Ones, an International Mindfulness, certified Sound Healing, Breathwork Practitioner, mediating Energy Channel and Kabbalist.
In addition, a Human Behavioral Specialist with over 20 years of professional experience, helping clients to empower them to navigate stressful environments and rediscover their true selves.
I hold a Master of Art in Teaching with a specialization in Human Behavior and a Bachelor of Science in Psychology specializing in Human Sexuality.Within the past 5 years, I have been on a journey of self- discovery.
Throughout this process, I have experienced a series of soul deaths and rebirths. I have faced the dark side of my soul (shadow), and ascended into higher dimensions of my soul with love & light. A greater awareness emerged, of "who I am", "what is my purpose", and "where I"m going".
I have achieved a high level of spiritual maturity to establish a conscious connection and realization of my true divine nature and can transmit healing through playing ancient sound healing instruments. When playing sound healing instruments, I am an empty vessel, in a state of complete receiving mode for the instruments to channel the sounds through for the benefit of the recipients. I'm in a state of surrender (egoless) – being guided by an intuitive knowing of where to go next.
The combination of possessing a highly spiritual consciousness and Symphonic instruments provides for a powerful force of healing!My purpose for curating Angelic Healing Retreats is you, to support your life journey.
You have the power to tap into your inner being, you are the Healer. I'm a Lightworker that embodies 10x the Light as a conduit, that holds the space to clear energetic blockages, unlocks hidden potential for you to receive signs, and synchronicities from the Universe, Angelic Realm to support you on the Next Chapter of your Life. To deep dive into your soul and awaken greatness within. To live a more authentic life.
It is a dance with Source Energy.
Let's Dance!
Affirm: Victory is Mine!
Infinite Love & Blessings
Looking forward to connecting and holding space for your transformation.
Essie Marie
Getting Here
You will arrive at Ngurah Rai International Airport (DPS). We suggest the earliest flight possible. Airport roundtrip transportation is included regardless of what time you arrive and depart within the retreat dates.
Covid-19 Travel
We strive to curate the safest experience for our attendees. Should the need arise to reschedule our retreat due to circumstances beyond our control, your payments will be applied to a future retreat. All attendees will be required to show proof of vaccination.