Just B.E. Retreat
Ubud-Bali | April 20-27, 2024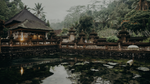 You must love and care for yourself, because that's when the best comes out."
— Tina Turner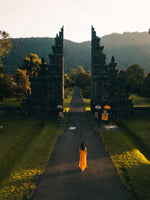 Breathe Easy
Are you finding that you're constantly swept away by the demands of life, leaving little room for your own well-being? Do you yearn for a moment of respite, a chance to simply exhale and let go?

Release the weight of self-imposed pressures as you immerse yourself in a haven of tranquility and introspection. The retreat offers a sacred space where you are encouraged to slow down, savor each moment, and embrace the beauty of simply being.

This sacred pause grants you the freedom to delve deep within, nurturing your soul and reclaiming your true essence.

The Just B.E. Retreat invites you to replenish your spirit, replenish your joy, and prioritize your own needs. By cultivating a mindful presence, you will refill your cup, allowing your inner light to radiate and infuse renewed energy into every aspect of your life.

This is your opportunity to reconnect amidst a world that perpetually tugs at your attention. It is a chance to rediscover the layers of your being, rekindle your passions, and awaken a vibrant sense of aliveness.

This is your invitation to unapologetically grant yourself permission to Just B.E., wholeheartedly immersing yourself in this extraordinary retreat dedicated to your self-care and empowerment. Join us, and let the transformative power of reconnecting with yourself inspire your journey forward.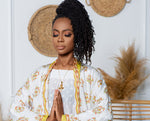 The Experience
Welcome Dinner
Welcome Balinese Flower Bath
Meditation
Daily Yoga
Sunrise View at Mt. Batur
Kintaman Village Tour,
Waterfall Excursion
Cooking Class
Barong & Keris Dance
Coffee Plantation Tour
Ubud City Tour
ATV Excursion
**Optional Additional Days 4/27-4/30 which includes Nusa Penida Island Tour & East Bali Tour for an additional cost starting at $1500 per person. You can indicate if you are interested in the additional days on the application.
**SPACE IS LIMITED**
apply now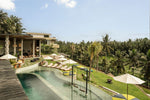 Accommodations
Deep inside Bali's cultural heart, is a captivating resort, offering an extraordinary experience that combines tranquility, adventure, and holistic well-being.
The resort's traditional Balinese architecture and lush surroundings create a serene ambiance, while the elegantly appointed panoramic suites provide modern comfort with stunning views of rice paddies. 
The resort embraces sustainability and eco-consciousness, sourcing local organic produce for its restaurant and offering transformative yoga classes, spa treatments, and excursions to hidden gems around the island.
It's a place where guests can unwind, connect with their inner selves, and create cherished memories.
NOTE: We are happy to pair you with a suitemate upon request which you can indicate on the booking form once provided.
Package rates are inclusive of accommodations, meals during retreat programming, excursions, gift bags, airport and ground transportation. Airfare is not included.
PAYMENT PLAN: $100 deposit. 1st payment due 14 days later, remaining monthly payments in equal amounts, with final payment due February 28. Payment plans incur a $10/month processing fee.
PAY IN FULL: Includes 5% discount
*Affirm available
Message From The Host
I want to take a moment to share with you the profound meaning behind Just B.E. Retreat, which stands for Just Breathe Easy. 
In a world that glorifies the hustle mentality, we often find ourselves constantly on the go, juggling multiple responsibilities, and striving to meet unrealistic expectations. 
We are expected to be strong, yet not too strong; independent, yet not too independent. This relentless pursuit of perfection leaves us feeling exhausted and burnt out, with little time to care for ourselves. 
That's why I created Just B.E. Retreat—for you and for myself. 
It is a space where we can collectively release the burden of societal expectations and embrace the power of slowing down. It's an opportunity to pause, reassess our priorities, and invest in our own well-being. 
This retreat is a reminder that we have the right to live life on our own terms, free from the suffocating pressures of external forces. 
It's about finding joy in the simple things, nurturing our relationships, and rediscovering our passions. 
It's a chance to prioritize ourselves without guilt, knowing that by doing so, we can show up fully for the people and causes we care about. 
Just B.E. Retreat is an invitation to thrive, not just survive. It's an oasis of self-care and self-discovery, where you can breathe easy and reclaim your inner peace. 
So, as you embark on this transformative journey, remember to inhale deeply, exhale fully, and let go of anything that no longer serves you. 
Embrace the beauty of simply being and allow yourself to flourish. 
I am honored to be part of this collective journey towards self-empowerment and growth.  
Let's create lasting memories and cultivate a renewed sense of purpose as we embark on this remarkable retreat.
Getting Here
You will arrive at Ngurah Rai International Airport (DPS). We suggest the earliest flight possible. Airport roundtrip transportation is included regardless of what time you arrive and depart within the retreat dates.
Travel Restrictions
We strive to curate the safest experience for our attendees. Should the need arise to reschedule our retreat due to circumstances beyond our control, your payments will be applied to a future retreat valid for one year. All attendees will be required to adhere to Indonesia's entry requirements.