Digital Detox Retreat
Ubud-Bali | October 26- November 2 ,2024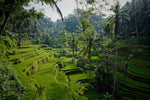 "Our devices are not the problem. The problem is our attachment to them."
— Krystal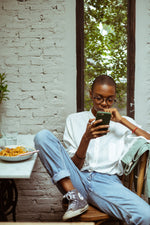 A time to turn within...
Imagine a world where you can disconnect from the matrix for at least 7 days - where you don't have to check your phone, email, social media, and are only focused on being in the present moment.
A place where you can slow down and embrace your surroundings.
This is the essence of the Digital Detox Retreat.
Here, time is not counted in likes, comments, views, or retweets.
It's marked by the rise and fall of the sun, the rhythm of your breath during yoga sessions, and the hushed conversations over meals. As you disconnect from the digital matrix, you reconnect with the essence of life itself.
Here is a moment in time where you can step away from the screens and immerse yourself in nature's symphony.
Let the sunrise guide your day instead of notifications. Engage in meaningful conversations instead of text messages and facetime, forge genuine connections, and savor the beauty of human interactions.
This is your invitation to disconnect from the algorithm and reconnect with life's simplest pleasures.
Join us on a journey of rediscovery, where presence becomes the ultimate gift and the present moment becomes your refuge.
October 25-November 2, 2024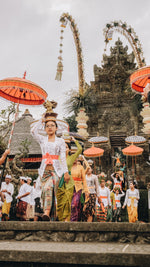 The Experience
Welcome Dinner
Daily Breakfast
Yoga
Meditation
Mt. Batur Sunrise Hike
Art Village
Tirta Empul Water Temple
Spa Getaway
Ubud City Center Shoping
Waterfall Trek
Nature Walks
Free Time to embrace Bali 
*Airfare is not included
**SPACE IS LIMITED**
apply now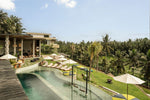 Accommodations
Deep inside Bali's cultural heart, and somewhere outside of linear time, our host resort unfolds gently across 10-hectares of lush tropical landscape.
The land's palm tree-fringed contours form a ceremonial walkway that reveals the hidden river valley below. Inspired by an ancient village untouched by time, the grounds follow the sacred Balinese wisdom of orientation to connect the spiritual realms in harmony.
Traditional design co-exists with playful contemporary punches throughout a characterful collection of 108 architect-designed thatched roof private villas and luxury guest suites.
NOTE: We are happy to pair you with a suitemate upon request which you can indicate on the booking form once provided.
Package rates are inclusive of accommodations, meals during retreat programming, excursions, gift bags, airport and ground transportation. Airfare is not included.
PAYMENT PLAN: $100 deposit. 1st payment due 14 days later, remaining monthly payments in equal amounts, with final payment due on/before September 30. Payment plans incur a $10/month processing fee.
PAY IN FULL: Includes 5% discount
*Affirm available
Message From The Host
The idea of the Digital Detox Retreat, my 3rd in partnership with OMNoire, stemmed from a deep longing to create a sanctuary where individuals could liberate themselves from the incessant grip of notifications, allowing the present moment to reclaim its rightful place in our lives.
Guided by a deep desire to reconnect with life's most essential aspects, the theme of this retreat is an ode to genuine human connection.
It was shaped by my belief in the power of disconnecting to rediscover the joys of conversation, the beauty of nature, and the profound sense of self that often gets overshadowed by the digital cacophony and black mirror.
Motivated by an unwavering desire to reconnect with life's fundamental elements, this experience has evolved into a heartfelt tribute to authentic human connection and my firm belief in the transformative power of disconnecting.
This act of resistance enables us to rediscover the simple joys of meaningful conversations, the splendor of nature, and the profound essence of self that often becomes obscured amidst the digital chaos and reflective screens.
Every aspect of this retreat has been thoughtfully curated with the explicit purpose of nurturing an environment conducive to reconnection, not only with the external world but also with the depths of our own hearts.
In alignment with my personal pursuit of a more mindful existence, The Digital Detox extends a heartfelt invitation to you to join me on this journey of rediscovery.
Together, let's extricate ourselves from the entanglements of technology's web and celebrate the profound beauty of human connection, the richness of the now, and the art of maintaining our humanity in an increasingly digital world.
Getting Here
You will arrive at Ngurah Rai International Airport (DPS). We suggest the earliest flight possible. Airport roundtrip transportation is included regardless of what time you arrive and depart within the retreat dates.
Travel Restrictions
We strive to curate the safest experience for our attendees. Should the need arise to reschedule our retreat due to circumstances beyond our control, your payments will be applied to a future retreat.