1 Minute Read: Meet The Retreat Leader - Emani Glee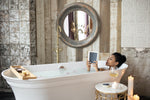 We sat down with OMNoire Retreat Leader, Emani Glee for a 1-minute read on what brings her joy, and what called her to host and curate transformative bookish retreat experiences with 'you' in mind.
Hometown: San Diego, CA
Occupation: Waiting for God to open the next door
Certifications/Specialty: Lifetime bibliophile
Instagram: @goldenbookhunter
Favorite Quote: "I did my best, and God did the rest." -Hattie McDaniel
Currently Reading: Hostile Takeover by Christina C. Jones
Favorite Destination: Honestly, a bookstore
Fun Fact: My favorite Disney Princess growing up was Mulan
I Define Wellness As: Wellness means taking care of all parts of yourself in ways that bring you peace, joy, and growth
Something That Brings Me Joy: Shopping for new books to add to my home library
Why Retreats?: I wanted to create a space to connect readers and celebrate books while also traveling the world
What I Love Most About Hosting Retreats: I love to witness people drop their guards and get comfortable connecting with everyone
###
After a sold-out retreat in Paris, Emani is back with another one – Well Read + Well Traveled April 18-22, 2024.
What better way for an avid reader to indulge in wanderlust than to combine bookish meetups with travel?!? 
Visit https://omnoire.com/emaniglee to learn more.