5 Ways to Stay Rooted in Your Financial Well-Being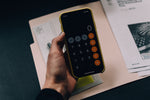 Until last year, at the start of each year, I found myself exhausted and didn't have the energy to do anything. I couldn't figure out why I was so drained and unmotivated, but when the pandemic hit it forced me to spend time examining the relationships I had. It brought to the forefront that I was giving everything to everyone but didn't know how to fill myself back up. It also became very clear that I didn't have a lot of boundaries in place. I noticed that I would get less done when I was always making myself available. 
I began to recognize how costly people-pleasing was, and that if I continued on this path, it would have lasting effects on my financial well-being. 
So what exactly is financial well-being?
Financial ease is having economic stability that allows an individual to live comfortably and make stress-free financial decisions. It means having the monetary capacity to not only cover basic needs, but unexpected expenses too. 
"When you're stressed, overwhelmed, or operating on low energy, it can be difficult to make good money decisions. Having a plan in place to stay rooted in your finances is key to living your best life."  
Here are 5 ways to feel more grounded in your finances, and focused on living abundantly: 
1) Prioritize consistent movement
Find fun ways to get your body moving (i.e. yoga, hiking in nature, walking, running, workout, or dancing). Movement and exercise increase your overall health and your sense of well-being. Not only will you feel happier, and more relaxed, it can alleviate some of your stress and anxiety. 
2) Start a gratitude journal 
Write down at least 3 things you are grateful for each day, including the funds you already have coming in. Expressing gratitude is like a magnet for attracting your desires.  
3) Focus on self-care
Self-care looks different to all of us. Some ideas may include: taking an Epsom salt or pink Himalayan salt bath. If you have access, physically sit by water (i.e ocean, river, or lake)—especially as the warmer months approach; water has a lot of healing properties that can help with relaxation and move nutrients through the body. 
4) Drink herbal teas
Some natural remedies to calm your nervous system are by drinking hibiscus or lemon balm tea. St. John's Wort tea or drops are good as well for helping to improve your mood, as well as managing symptoms of anxiety, restlessness, and more. 
5) Connect with like-minded people who are aligned with your goals
The company that you keep can either support or hinder your growth. Surrounding yourself with good people who inspire you, and hold you accountable can make or break the progression of your financial goals.  Be sure to do an inventory of who is in your circle, and decide if they are worth keeping around, and or letting go of. 
A healthy state of financial well-being and wellness can reduce stress and anxiety-related money issues, and improve your quality of life. Achieving that requires a combination of self-awareness, healthy financial behaviors, and self-worth. 
This leads me to leave you with a few reflection questions that can help you avoid blind spots in your financial journey:
 1) How can you show up for yourself today before you show up for the world?
2) Of the people you spend time with or talk to the most, do the conversations typically uplift you or leave you drained?
3) Are your current relationships supporting where you are in your financial wellness journey?