1 Minute Read: Meet the Retreat Leader - Billé Frazier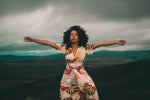 We sat down with OMNoire Retreat Leader, Billé Frazier for a 1-minute read on what brings her joy, and what called her to host and curate transformative wellness retreat experiences with 'you' in mind. 
Currently Residing: Atlanta, GA
Occupation:  HR Business Partner
Certifications: Master Abundant Life Coach, Certified Clinical Hypnotherapist, NLP Success Coach, NLP TIME Techniques Practitioner, NLP Practitioner, Senior Professional in Human Resources, Certified Business Manager, Society for Human Resource Management-Senior Certified Professional and HR Empowerment Speaker
Instagram: @billefrazier
Favorite Quote(s): 1. Don't judge me until you know me. Don't underestimate me until you challenge me. And don't talk about me until you talk to me. 2. I'm Rooting for Everybody Black 3. Self-care and self-nurturing is not selfish, its our birthright.
Currently Reading: Children of Blood & Bone by Tomi Adeyemi (word on the street is the next in the series is due out soon...)
Favorite Destination: Domestic: Mt. Pleasant, SC and of course my hometown of Los Angeles, CA International: Bali
Fun Fact: My guilty pleasure-Discovery's Naked & Afraid
I Define Wellness As: Ease, flow and alignment
Something That Brings Me Joy: My experiences, the good, the bad and the ugly
A Pivotal Moment In Your Life: The passing of my Father, whom I'm named after
Why Retreats?: To build community and connection with other black women who take care of everyone else before taking care of themselves. One of my goals is to dispel the myth of the "angry black woman." I truly don't believe we are angry, we are tired and exhausted living in a system that was never created for us. That's a lot to manage.
What I Love Most About Hosting Retreats: My first retreat with OMNoire is scheduled for June, 2024. I'm looking forward to the energy and stories of the participants. We are such a diverse people and there is so much we can learn and share with each other.
###
 Billé will be hosting the Hear your Heart Retreat in Costa Rica June 20-24, 2024.
Stay connected by clicking Billé's linktree for more information about her offerings: https://linktr.ee/reigniteyourlife.